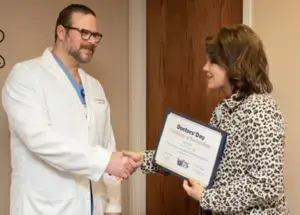 The Pennsylvania Medical Society (PAMED) celebrated physicians statewide on Doctor's Day, Thursday, March 30, 2023. Nearly 300 nominations were submitted by the public to recognize physicians who have "gone above and beyond in their care". Dr. Victor Pilewski, MD, FACS, a surgeon at Meadville Medical Center, was among those nominated and ultimately chosen to be honored in person. Janet Thompson, Membership Liaison, has worked for PAMED for more than 22 years and presented Dr. Pilewski with his certificate, adding that MMC is: "a robust, solid, award-winning hospital that is great for the local community." The nomination statement provided to PAMED regarding Dr. Pilewski reads:
Dr. Pilewski consistently goes above and beyond while working as a surgeon at our hospital. Everything from passing out meal trays to patients while also providing excellent surgical skills in the OR. Our small, rural community is very lucky to have him treating our patients. He gives 100 percent every day helping out when not even asked.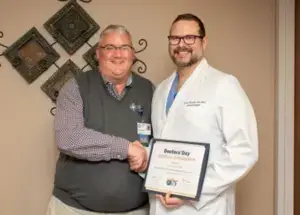 Meadville Medical Center's Chief Medical Officer, Dr. Kevin Kraeling, also attended the certificate presentation, adding: "Dr. Pilewski is always willing to step up and help out our patients as well as other providers, whether it's the operating room, the [general surgery] office, or just medical staff in general."
The experience of receiving the PAMED certificate was one that Dr. Pilewski accepted with gratitude but also modesty, saying that in regards to being singled out as a physician who goes above and beyond his duties: "The MMC community is a tightly-knit one where people know you by name. Physicians feel appreciated, and the relationships that are created here make you want to lessen the burden for others and help out."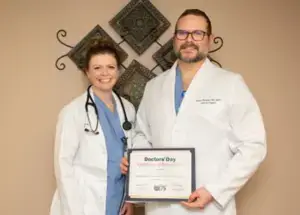 The local community is one in which Dr. Pilewski has roots! Born and raised in Oil City, he studied at Allegheny College before attending medical school at Pennsylvania State College of Medicine. From there, he completed a general surgery residency at University of Kentucky in Lexington, where he was also chief resident from 2013-14. He then practiced surgery in Morehead, Kentucky before joining Meadville Medical Center in 2017.
Dr. Pilewski is board certified by the American Board of Surgery.