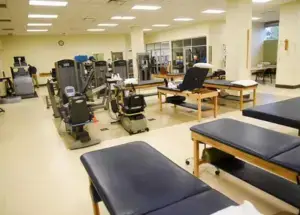 Meadville Medical Center (MMC) and Allegheny College today announced a significant expansion in the health system's Sports Medicine program as athletic training services to Allegheny College athletics will be provided by Meadville Medical Center beginning with the onset of fall sports practices next week.
MMC Sports Medicine at Allegheny College will be led by Christopher Rial, D.O., Team Physician and Michael D. Carr, PT, LAT, ATC, Director of Sports Medicine and staffed with a team of athletic trainers.
"I am very excited to have Allegheny College join our Sports Medicine program. I want to bring the same high quality care and approach to the student athletes of Allegheny that have been so successful in our local high schools over the past 20 plus years. I take pride in our program's ability to make a positive impact on an athlete and team and look forward to bringing the impact to the Allegheny athletics' community," stated Mike Carr.
Allegheny College currently has approximately 500 student athletes participating in 23 collegiate sports in the President's Athletic Conference and North Coast Athletic Conference.
"We are excited to begin our relationship with Meadville Medical Center Sports Medicine, said Director of Athletics, Bill Ross. The health and well-being of our student athletes is our number one priority. Through the resources and expertise that MMC Sports Medicine offers, we have elevated that commitment. I want to thank everyone at MMC Sports Medicine for working with us on offering our student athletes a first rate experience."
Meadville Medical Center started providing outreach athletic training services to our local high schools in 1998-1999 school year quickly becoming one of the region's leaders in Sports Medicine thanks to the direction of Medical Director, Vincent Paczkoskie, Jr., M.D. and Michael D. Carr, PT, LAT, ATC. Dr. Paczkoskie is a dual board certified and fellowship trained Sports Medicine and Upper Extremity physician at Orthopedic Associates of Meadville (OAM) who joined the program in 2000. "The sports medicine program at MMC could initially be found in the basement of the Liberty Street facility. Today, we have a comprehensive team of board certified and fellowship trained orthopedic surgeons, athletic trainers, physical therapists, imaging services, and a state-of-the-art training facility to assist with recovery and rehabilitation. We have served the Tri-State area for many years, and as we now become the sports medicine provider for Allegheny College, I cannot wait to see where the future takes us. It is especially bright with the addition of yet another fellowship trained Sports Medicine physician in Dr. James Nemunaitus who will be going OAM on August 15th," expressed Dr. Paczkoskie.
MMC Sports Medicine Athletic Trainers work collaboratively with Orthopedists, Primary Care Physicians, other Physician specialties, and Neuropsychologists along with Physical and Occupational Therapists, sports first aiders, coaches, athletic directors, and principals to accomplish the goal of providing a complete Sports Medicine system including the education, prevention, management, treatment, and rehabilitation of injuries, accidents, and overuse conditions and from the foundation of our Sports Medicine team.
MMC now provides all onsite health care services to students at the college. In 2021, MMC commenced operations of the Winslow Health Center for the students' general health needs and has a provider onsite from 10:00 A.M. to 3:00 P.M. Monday through Friday, commencing August 29, 2022. Allegheny College joins the Commodore Perry, Conneaut, Cranberry, Crawford Central, Jamestown, Penncrest, and Valley Grove School Districts in choosing Meadville Medical Center for their Sports Medicine needs.